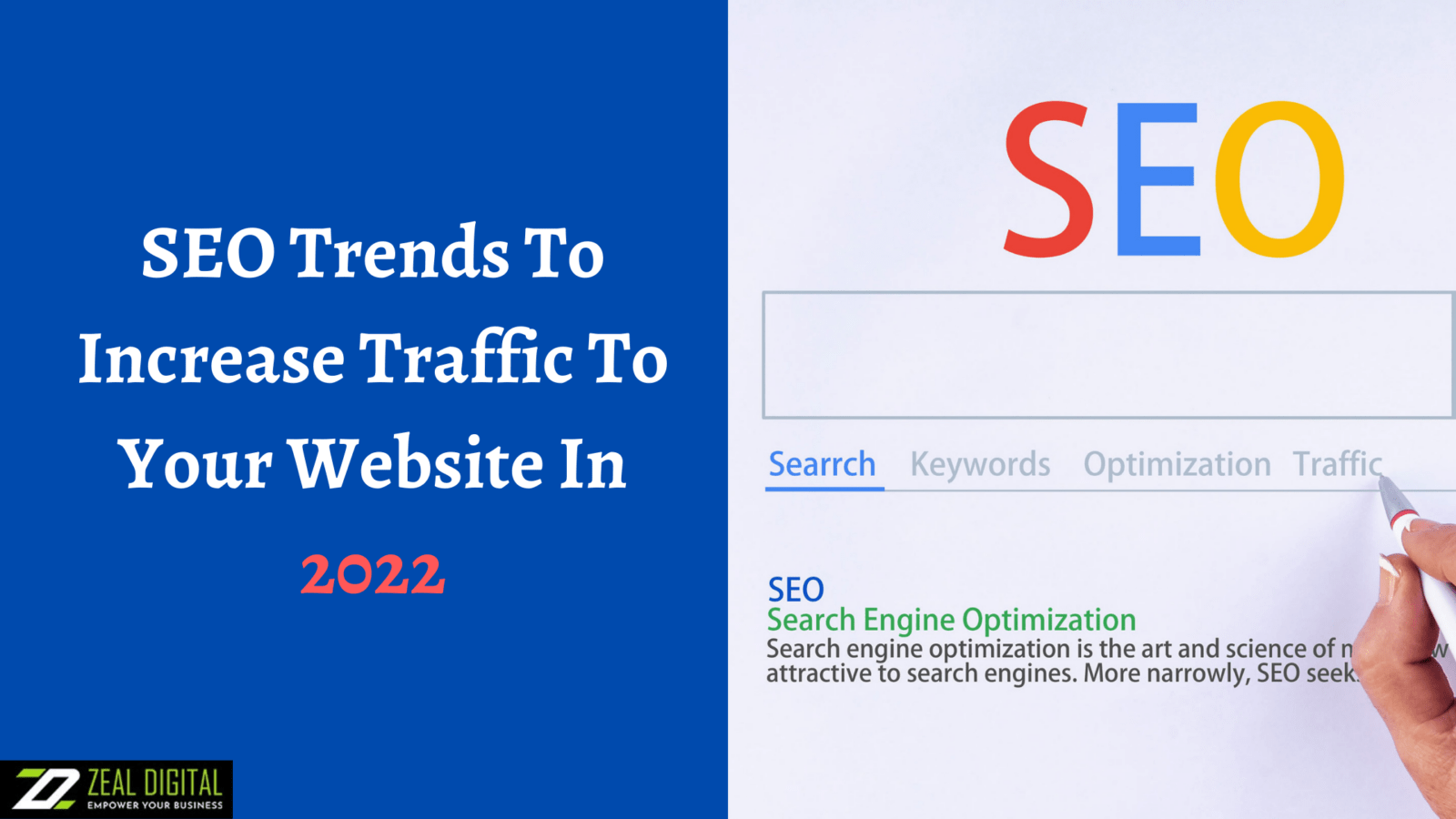 SEO Trends to Increase Traffic to Your Website in 2022
Search Engine Optimisation (SEO) has been the backbone for years to help marketers reach their target audience's website content. Google keeps updating its terms, and hence it's up to the web admins to stay aware of the latest trends to stay relevant and ahead of the competition. As per current trends, the SEO market will reach $83 million by 2025. Despite these figures, many website owners still don't entirely rely on keeping their website updated to the latest trends.
One of the main reasons people stop their SEO optimisation is that they feel it's a one-time process, which is the biggest mistake and later observes that fewer visitors visit their website. Taking help from an SEO specialist will ensure you no longer have to worry about your website and focus on offering the clients the best service. An SEO specialist may change your SEO strategies every six months to merge all the latest updates for improved performance.
With 2021 gone by, start 2022 by getting an SEO Audit which will help you understand the health score of your website and find faults that need immediate attention. Capitalise on the latest SEO trends to begin your year ahead of your competition. Some of the best trends you should follow to improve your website traffic in 2022 would be as follows-
The Future is Multitask Unified Model (MUM):
Google has launched a new Multitask Unified Model algorithm to improve the efficiency more than 1000 times its previous generation BERT algorithm. MUM can quickly identify over 75 languages and help better analyses your videos, images, text, etc. This has been integrated to enhance the voice search, google lens and APIs to perform their task seamlessly. Ensure your content (Video, Audio, Text) has the required Expertise, Authoritativeness and Trustworthiness (EAT) to be quickly evaluated by MUM.
Voice Searches Are Catching Up:
Did you know that 40% of users use voice search daily? This translates to about 1 billion searches per month. Seeing the broad possibilities, Google has implemented a new model named Language Model for Dialogue Applications (LaMDA). All this has been done to make your results less robotic and more natural. SEO experts should take pointers from these developments and implement voice searches in their websites to be future-ready.
How should one optimise them? You must make several sample questions that target your content. Take up questions that people would do talking daily. The more conversational tone, the better would be the results. Try keeping the answers short and precise to get relevant answers when asked.
Video Structure will play a Vital Role:
Video streaming services like Youtube, Tit Tok, Twitch are all rising in popularity, with more people joining the community. You might have observed search results throwing up Youtube videos in a clipped format to get your answers. Google added this Clip and Seek Markup feature to help the website owner add timestamps and labels to videos so that users can reach their video when a specific question is thrown in the query section. Ensure your videos are SEO optimised to gain more traffic in the long term.
Search Intent Will Play a Vital Role:
People have used social media platforms like Instagram and Tik Tok to get valuable information, transactional, and navigational intent. Plan your SEO as per the search intent to reach the maximum audience. The use of AI has already played a significant role in getting the desired users attention; plan your SEO strategies accordingly to stay on top.
Refresh Your Older Content:
Google always tries to search for fresh content to be shown to users at the top of the search results. Keep updating your website with recent developments and information on what users might be looking for. Updating your older content will assure Google that your content is relevant and trustworthy, which will help you grow and rank higher in the search results, which will organically increase your traffic.
Semantics will play a crucial role:
Keywords are still relevant for your content, but with Google focusing on the AI Bidirectional Encoder Representations, you should pay attention to this trend. The focus would be on the relation between the words to help you get a higher ranking. Having a conversational tone to your content will ensure your content is ranked higher. With featured snippets gaining relevance, you should aim to get paragraphs of 40-50 words written to ensure your snippet would directly feature for the first click.
Mobile User Experience Should be Prioritised:
With the world moving toward mobile phones for web searches, Google focuses on how well the website performs when running on phones and tablets. If the user has a poor experience using handheld devices, your ranking will undoubtedly drop. It was observed about 54% of the web traffic now originates from mobile phones. SEO experts should improve the page load speed and optimise it for mobile use for the best user experience.
Make your website Interactive:
Gone are the days when just plain text would have been sufficient to create your web pages. With Web3 rising, you need to update your website with more interactive data. Try adding quizzes, audio, video, and images to your website should be the way to move forward. The more the content will be available, the more crawlers will crawl through your website to help your website rank better.
Google Discovery Will Be the Main Attraction:
SEO experts should be keen on optimising a website on Google Discover. The only thing required to be on the discovery feed is that your website is indexed and agrees to meet content policies that can be posted. Google Feeds are more user targeted and help users obtain information on any particular topic they are interested in. This allows users to get helpful details while website users gain more traffic. However, the content must stay relevant, and no clickbait titles are added to draw users' attention.
The Pandemic has led to faster growth of the digital world, and hence optimisation will play a vital role to stay relevant. Following all the latest SEO trends and updating the website regularly with relevant data will help bring more traffic. Zeal Digital will help you with the best SEO practices, Web Designing, SEM, and other marketing needs to stay ahead of your competition. Contact our experts on 1300 269 414 to get a free quote for your digital marketing requirements at the best rates possible.