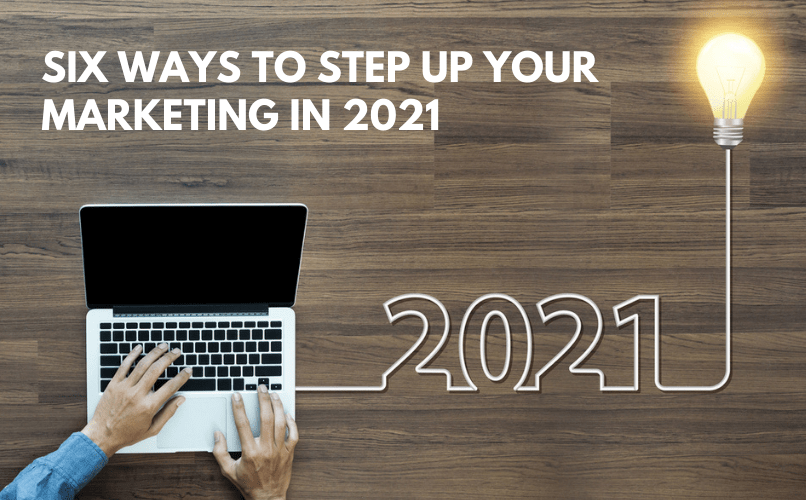 Six ways to step up your marketing in 2021!
Marketing is ever-changing, and the fast-growing social networking has speeded up the process. Gone are the days of hard-sell marketing. Digital marketing is becoming the new normal. 
2020 brought a revolution in the world of marketing and completely changed the way businesses operate. The year introduced many aspects of marketing that previously had been underrated. And now, as we move forward to 2021, these strategies are going nothing but stronger and more innovative.
Marketers have to brace themselves, for this new normal is just the beginning of an era of digital marketing. However, that doesn't mean you forget all your traditional strategies and just do it the millennials' way. Things will go back to the way they were, but you will need to boost up your marketing to match the new normal. 
Here are some approaches to a great marketing strategy for the upcoming year.
Emphasize on online visibility
It is no secret that well-established online businesses did well in the year 2020. People are buying things online more than ever. And if it's one thing that will continue to grow in the year 2021 as well, its online businesses.
By directing your marketing budget towards online visibility, you will have a better chance of reaching a wider audience and creating brand awareness.
Don't underestimate the power of SEO!
Understand the power of social media marketing 
Social media is on a boom this year and many consumers are using social media to communicate and engage with brands. By meticulously strategizing your social media presence you can easily persuade your target audience ultimately turning them into customers. Therefore, having a robust social media presence is the need of the hour.  
Embrace integrated marketing 
Integrated marketing is a holistic approach to create a filtered and seamless experience for the consumer. It is the synchronization of emails, online ads, recommendations, and other touchpoints. As technology is advancing the marketing landscape, especially online marketing is becoming smarter than ever.
The forces of the constant flow of data have allowed ads that are an exact fit for the consumer. It almost looks like the internet can read minds, but the secret is the ever-growing technology of algorithms.  
2021 is going to be the year of unified customer experience. Along with traditional marketing strategies integrated marketing is going to drive consumers' choices.
Focus on brand awareness and values 
2020 taught us that having a strong brand awareness can increase the market share in both the online and offline platforms. Businesses utilized strong messaging and empathy like never before. These soft marketing tactics have grown over the consumers and emerged as a strong marketing strategy.  
Having a solid brand image and strong message in 2021 can work great in the favour of business. It will be seen as a strong and positive come back after an awkwardly inconsistent year.
Don't forget the human touch in your website 
The search engine has come a long way since its days of looking for exact keywords on the content. In the world of supercomputers, you don't have to produce content that lacks preposition and readability.
As mentioned above, algorithms are ever-growing. Nowadays, Google is smart enough to pick out the context from the content and offer it to users looking for it.
Consumers are all human beings. Search engines have understood it. If the businesses start to do the same, they will have a better chance of communicating and building relationships with consumers.
Keep a perfect balance of pre-COVID ways and the new normal 
Keep a blend of new and old ways of marketing. The coming year will bring new technologies and strategies. However, there must be certain things that are old but work pretty well for your company. Stick to your tried and trusted ways of marketing incorporation with the new and savvy ones. 
As things go back to normal again, people will start socializing and will go back to traditional ways of making purchases. You must be ready to grab business opportunities when people are craving physical interaction the most. With a perfect blend of both ways of working, you can easily adapt to the new normal and continue to serve the traditional way.
In conclusion, A lot has changed in the marketing landscape over the course of a year. Even with so much going on, marketers continued to come up with innovative and revolutionary ways of marketing. People are expecting things to go back to normal in 2021, but that doesn't mean these emerging marketing strategies are going to be withdrawn.
With 2021 around the corner, now is the time to step up your marketing strategies. If you are struggling to build a perfect marketing strategy, try out these six ways.