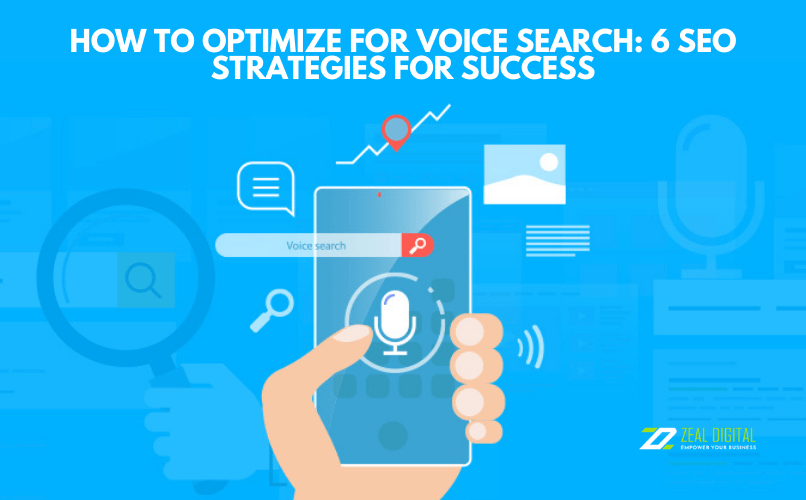 How to optimize for voice search?
As the websites turned out to be the gateway to the success of the business enterprises, a lot of strategies are being devised to make the websites more visible and hence, endow them with the potential to attract traffic.
 All this has made Search Engine Optimization not only more popular than it was ever before but also indispensable. The constant Google updates have paved the way for an ever-changing scenario, which is also the reason why the entire concept of search engine optimization is paid more importance than ever before.
Now, search engine optimization involves consideration of a lot of factors and the application of a few steps and strategies. The concept is no longer restricted to link building but extends much beyond that to include social media optimization, search engine marketing, and so on. However, in one's attempt to focus on the more complex tactics, the basic ones are often missed out. So, here is a brief overview of a few steps that you must take to devise the right SEO strategies for your business.
So, it is truly clear that SEO professionals need to think differently and optimize their site for voice search.
Here are a few things you should know:
Voice searches are mostly done through mobile and often locally focused

They're more conversational

Voice searches are usually longer as compared to typical text keyword search.
Tips to Optimise for Voice Search Intent:
Aim for the Featured Snippet
Professionals have always endeavoured to grab the most desirable spot – "Google's featured snippet" or "Google Answer Box" or "Position Zero" for many reasons. Getting the top results for voice search is now one of the reasons.
A featured snippet is meant to be a quick answer to a question that is typically going to get more likes and it is what people always look for when they are using voice search.
Some of the tips are
Addressing your audience's intent

Doing a thorough keyword research

Genuine, high-quality content creation

Learn and implement SEO best practices

focus on easy-to-follow formatting
Keyword and Content
Precise, informative content with the right keywords placed in it works wonders in letting your websites go up higher in the search engines. Content, in SEO, is indeed the king for it paves the way for higher traffic, better visibility, and higher conversion rate, though in the long run. Get SEO friendly content for your website and see the difference that it makes.
Understand Schema Markup
If you are not acquainted with what schema markup is, I highly recommend starting your research. Schema markup is one of the most imperative ranking factors for voice search optimization. This is one of the effective strategies that will help you in SEO optimization as well.
To make things simpler, schema markup helps search engines to understand the content on a page clearly. The schema markup helps to Understand what a page is all about and facilitates efficient scanning of pages by the bots.
Mobile Optimization should be your Priority
After the Google Mobile-Friendly Update, it is necessary that you develop a mobile-friendly website. Voice searches are commonly done through mobile phones. So, it is always advisable to have a responsive design and ensure superior loading speed.
If you want to test your website complies with Google's guidelines, you can use Google's Mobile-Friendly Test Tool. 
Your Content, Your Hero
Content is the heart of SEO. But it's not that any content will work. You need to frame your blog that matches your customer's intent. Here are a few basics for writing a post that you must pay attention to when it comes to voice search:
Content must be easy to read and understand. Avoid ambiguity.

Aim for in-depth content – maybe around 2,000 words. Because Google typically gets the answers from in-depth contents of information for voice search.

Check the location and your audience's questions.

Speak using conversational phrases.

Share your content on social media regularly.
Improve your on-page elements with proper URL, page title, header tags, alt text, meta description.

Build high DA, do-follow links

Ensure your site is secure

Page speed is the key
Voice search optimization makes your content easily visible to the audience and with the development in AI, voice searches shall be more intelligent, more responsive, more precise & more prominent. So, pull up your socks and start to optimize your site for voice searches.
User Intent Optimisation
SEO or search engine optimization is not simply about stuffing keywords into your web pages. It is all about integrating keywords that deliver unique content to its users. When a user searches for a specific word or phrase in a search engine, the search engine will give the searchers the most helpful and accurate result. The most practical result gives a clear idea of who they should consider doing business with.
The best way to achieve user intent optimization is by putting yourself in the shoes of your customer and thinking about what would be looking for, this would compel you to learn more about a product and so on.