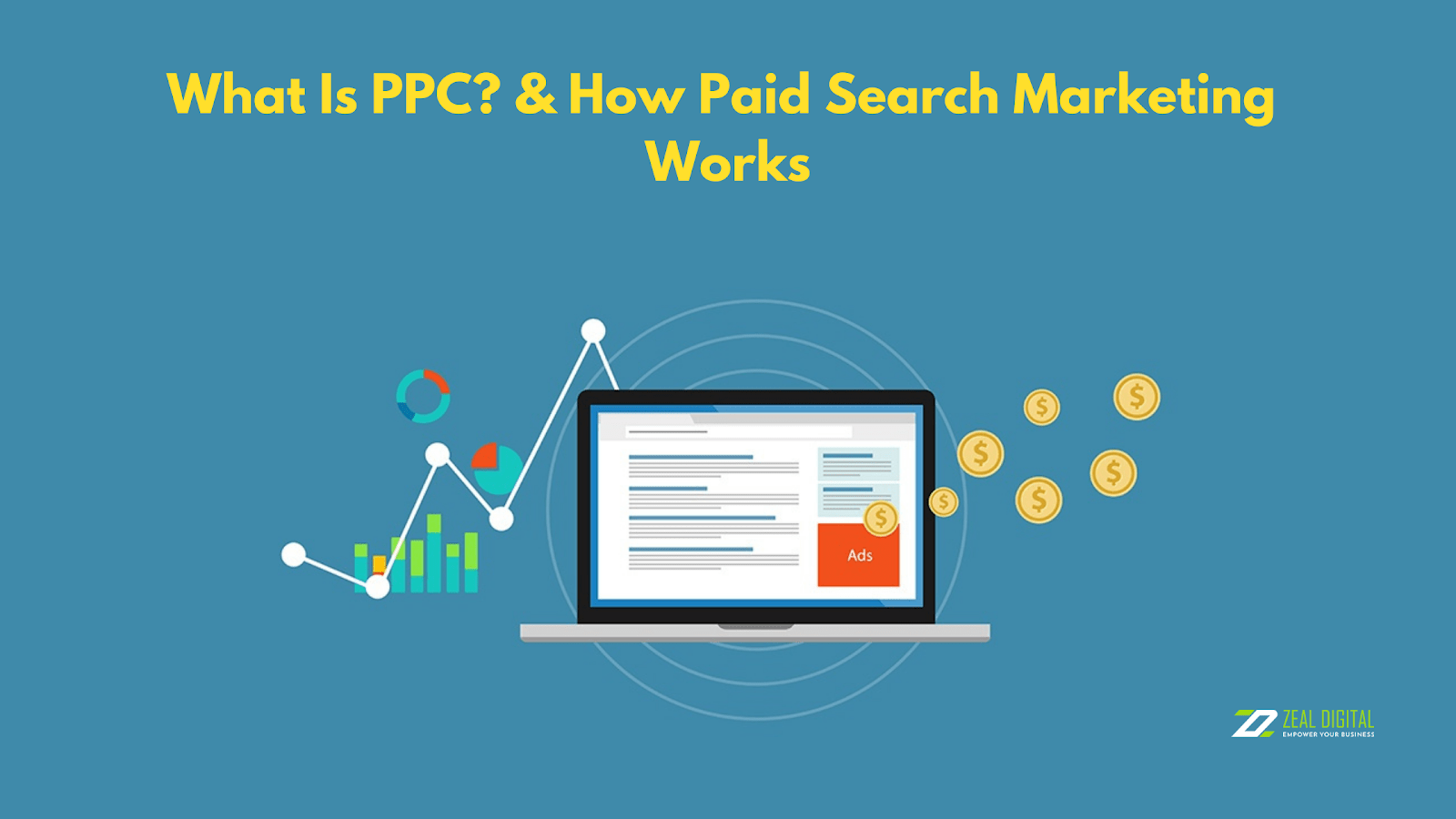 What Is PPC & How Paid Search Marketing Works
To climb the rank on various digital platforms, business organizations must adopt effective PPC strategies. PPC, also known as Pay Per Click, is a marketing strategy through which marketers promote your brand and you pay them based on the clicks generated through their ads. What a remarkable way of advertising and ensuring that you only pay for the benefits attained right? 
Google Ads and Microsoft Ads offer their services and host ads targeting audiences who are mostly to strike action. Working through their bidding platforms, they interact privately with their clients and bid their services on a real-time basis. With our guide put together to facilitate you with basics, advancements, and relevant points, you'd certainly take away key points that can assist your decision-making.
Understanding the Functionality of a Paid Search
Marketers work closely with these platforms by creating their accounts and determining the significance of their ads. Once these platforms like Google ads exhibit the significance of your ads, you can create ad campaigns by targeting the areas that hold increased potential. These ads are then intensified by involving keywords and anchor words that relate to the field of administration.
How are these keywords generated you may ask?
The Search Engine Result Page that is SERP, conducts bids that identify the keywords that the ads on its pages function with. These search engines then assess various aspects like how creative and attractive the ad looks, and the amount paid for the bid in finally deciding which marketer's ad will top the list.
This explains how simple terms searched on these platforms trigger bids and PPC ultimately. The logic is even easier to understand, these platforms only want to keep their audience engaged with ads and content that interests them. This means the growth of your page is leveraged when your marketers focus on creating ads based on terms that are most searched by its users and likely to strike the bids.
Why Keywords Form A Crucial Part Of PPC?
As we've learned from the basic details on how Paid search functions, its apparent Keyword is the primary element that connects the potential audience to the marketers. Now, there are two elements to ascertain, one is the searched terms and the second is the keywords.
Searched terms are the concepts typed into the user's search bar that determines the overall impact of your ads and implemented keywords. And the keywords, on the other hand, are an attempt made by the marketers at matching the searched terms for a larger impact on the audience.
How the marketer forms or uses the keywords differ depending on their preferences and targets. For instance, one can play around with the way the words are arranged or spelled. Further, marketers also involve some keywords that prevent driving the wrong traffic to your web page. This step is essential as the wrong traffic can bring down your user experience and impact the audience.
Focusing on Ads 
Marketers need to focus on creating effective ads with a combination of keywords that are sure to top the bid. Once you've won the bid, only then your ad will be featured and connected to your audience. Now, it isn't necessary to focus just on one ad, one can try various ads to heighten the chance of topping the bid.
You can consider using ad extensions for enhancing the quality of your ads. You can also optimize the titles, descriptions as well as URL to get your ads ranked higher.
Determining Your Ad Budget 
The first step towards creating your ads is determining your budget, based on which you'll be able to bid on appropriate keywords. Putting in place an effective bidding plan can help administer your spending. Indeed, your budget can't be regulated as it is determined by the bids placed by all; however, your bidding plan can regulate your budget. This depends on whether you've implemented a bid for one keyword or a group of them.
Factors to Administer to Make Your Ads Successful
There are quite a few factors that one needs to consider while creating and gaining success through your ads. We've already observed some of these as the keywords, search queries, amount spent on bids, etc, however, some additional factors include.
If you want to reach the right audience, you also need to target them the right way. PPC Management in Sydney and across the globe focus on the location and demographics of the audience that is interested in their area of operation. Further, optimizing your ads based on their distinct timings and preferences can leverage your ads.
Likewise creating interesting and quality ads can enhance the user experience. It can also work as a measure to track your progress.
For these and many more factors, the journey towards getting your ads ranked also requires consistent analysis of your market performance. Hopefully, you're now acquainted with all the basics and in-depth knowledge of PPC.