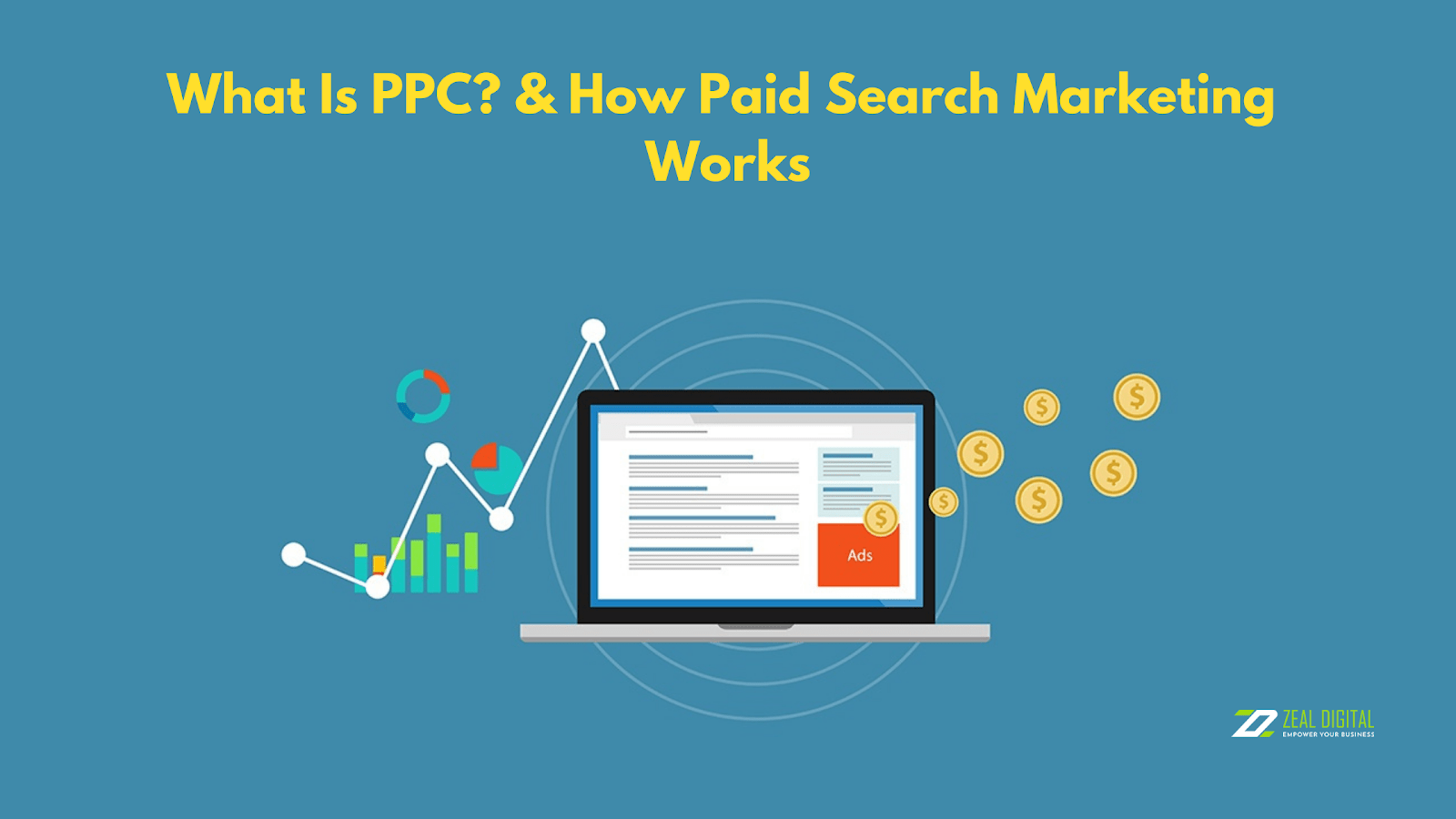 What Is PPC & How Paid Search Marketing Works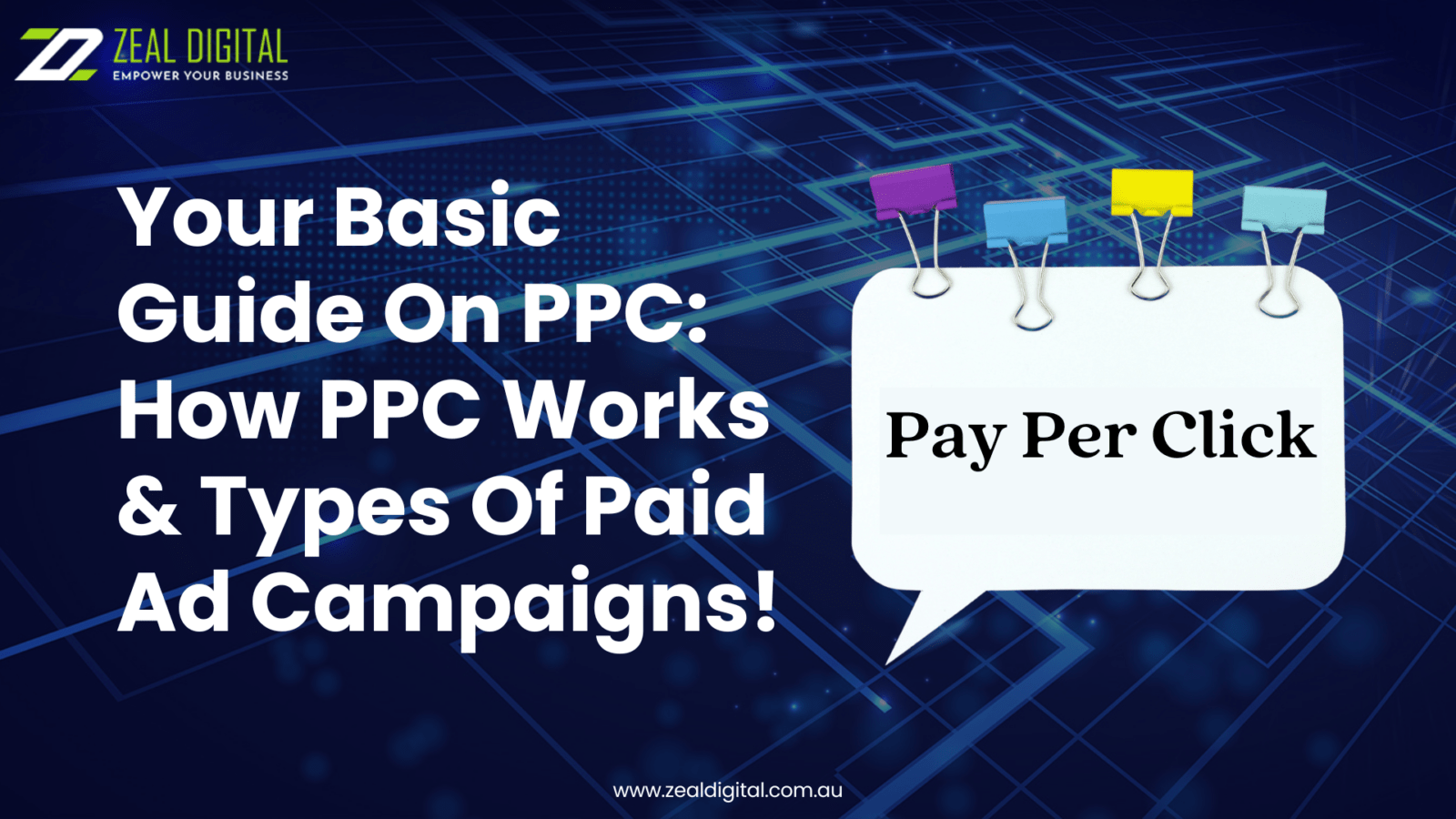 PPC stands for "pay-per-click" and it involves placing advertisements on search engines that are relevant to the user's search query. This is a cost-effective way to promote your business and reach potential customers who want what you have. Whether you are an online retailer, fashion designer or car dealership, AdWords is the perfect platform to reach new customers looking for your services.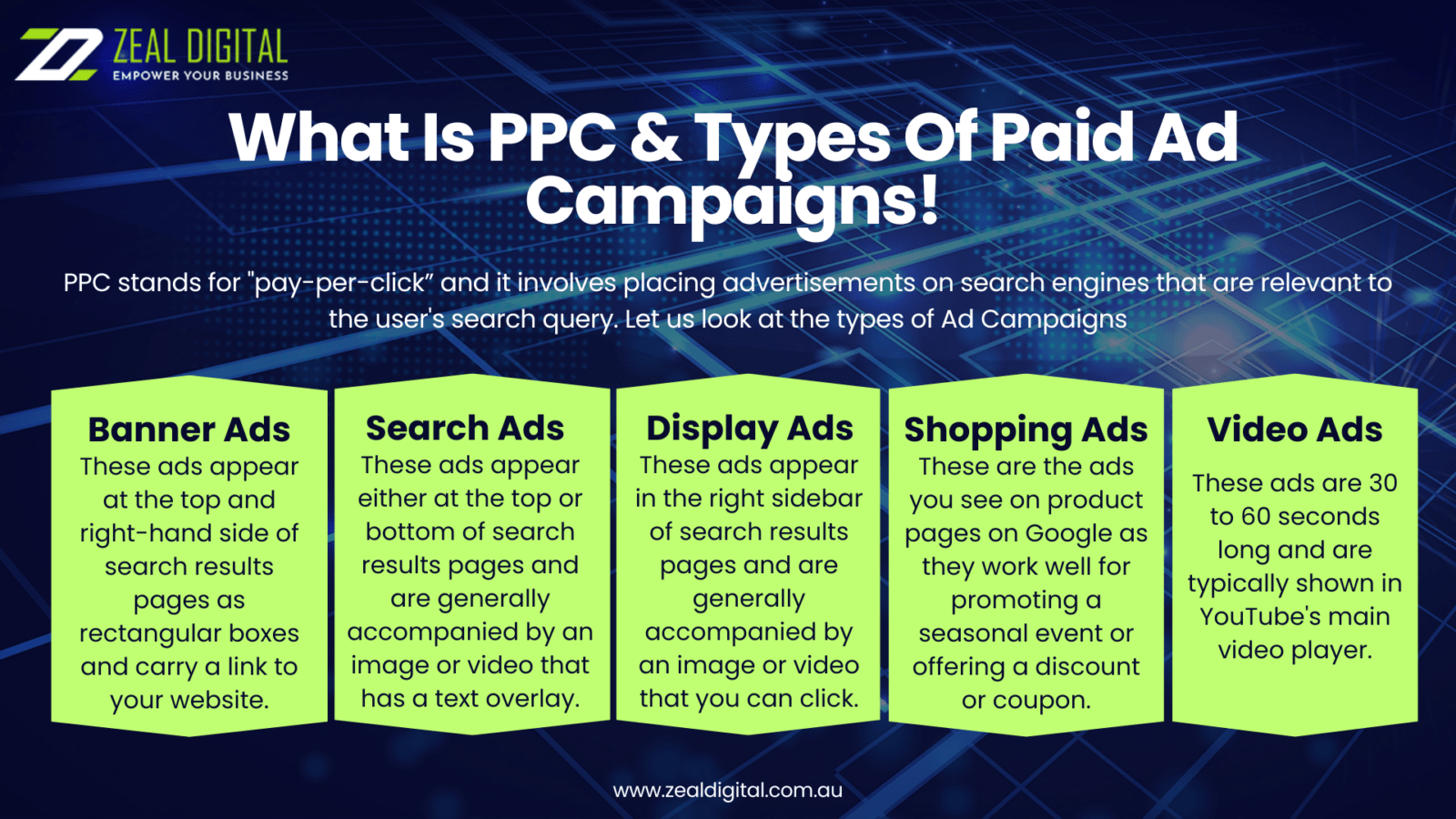 What Is the Role Of PPC In Search Engine Marketing?
Over the years, online advertising has changed the way people used to shop and search for products. Thanks to Search Engine Marketing (SEM), you can generate traffic to your website, increase sales and improve overall brand awareness in no time.
So, are you looking to learn more about how PPC works and how to use it to make a bigger impact on your business? In this article, we will explain everything you need to know about PPC and its working, making it easier for you to take your business forward.
How Does PPC Work?
The PPC model works by charging advertisers a certain amount of money for each click that leads to their website or app. Advertisers can choose to pay for clicks, impressions, or both. This form of advertising has been around since the 1990s and is still used today as an effective marketing strategy for businesses and individuals alike. So, let's see how it works and how you can leverage it for your benefit.
Auction-Based Ad Spots:
In the world of PPC advertising, marketers bid for the top spots on Google's ad-serving network. This auction-based system allows brands to compete with one another to get their ads shown and drive increased sales.
Ad Rank:
The first entity that places an ad on the top of Google's search results will get a certain number of "impressions" which are counted as the number of people that view their advertisement. From there, Google will determine a cost-per-click (CPC) based on where the ad is placed and how many times it was clicked.
But please remember that as soon as someone clicks your ad and lands on your website, you're charged for that click at whatever rate you paid for impressions.
What Are The Types Of Paid Ads?
Now that we've gone over how this method works, let's see what types of paid ads are available in PPC marketing.
Banner ads: These are the most common types of advertisements on Google's ad-serving network. These ads appear at the top and right-hand side of search results pages as rectangular boxes and carry a link to your website.
Search Ads: These ads appear either at the top or bottom of search results pages and are generally accompanied by an image or video that has a text overlay.
Display Ads: These ads appear in the right sidebar of search results pages and are generally accompanied by an image or video that you can click on.
Shopping ads: These are the advertisements you see on product pages on Google as they work well for promoting a seasonal event or offering a discount or coupon.
Video ads: These ads are 30 to 60 seconds long and are typically shown in YouTube's main video player.
There are a few other ads too that you can use in pay-per-click marketing. If you want to know more about these PPC ads, connect with us.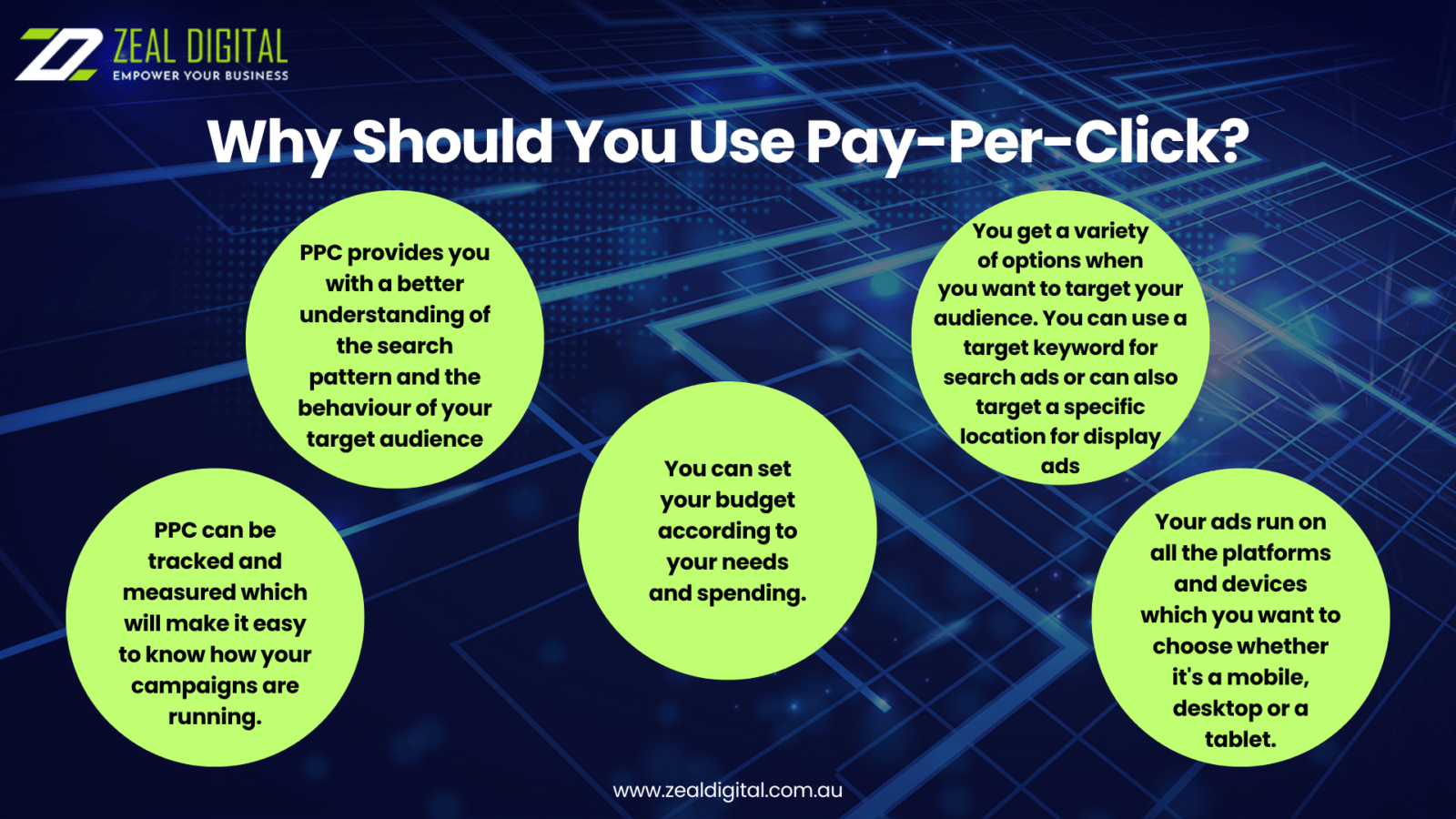 Why Should You Use Pay-Per-Click?
There are many reasons why you should use PPC, including the following:
PPC provides you with a better understanding of the search pattern and the behaviour of your target audience.
PPC can be tracked and measured which will make it easy to know how your campaigns are running. You can know how many impressions and clicks you are getting which will also let you know the traffic you are receiving.
You can set your budget according to what you require and your spending.
You get a variety of options when you want to target your audience. You can use a target keyword for search ads or can also target a specific location for display ads
Your ads run on all the platforms and devices which you want, whether it's a mobile, desktop or a tablet.
What Is CPC?
The CPC, or cost per click, represents the fee paid for every click in a pay-per-click advertising campaign, wherein the click refers to an instance of visiting or engaging with the offerings and services of a business.
How Is CPC Determined?
The cost per click is determined by several factors, which include the quality score of your website, maximum bid provided by you and the ad rank of your competitors.
The formula to calculate CPC is: Cost to the Advertiser ÷ Number of Clicks.
Does Quality Score Affect CPC?
Quality score is the rating that is given by search engines. This rating is based on the quality and relevance of the keywords on your website and your PPC ads. It has a huge impact on the effectiveness and cost of the paid search campaigns as it's used to calculate the CPC.
There are various factors that affect the quality score which are as follows:
Relevant keywords are added to your Ad group.
Landing page is relevant to the keyword you are running your ad on.
Ad copy is relevant to your product and service.
Click through the rate of your website.
Ads account performance.
How To Optimise The Google AdWords?
As one of the largest PPC networks, it possesses a vast audience reach and partners with millions of websites worldwide, which businesses avail themselves of daily to enhance the traffic to their respective sites. Just like other PPC networks, the Google AdWords network necessitates bidding. The placement of your advertisement and the number of clicks it receives depend on how much you bid as well as the amount other users are bidding.
To optimise your Google AdWords account and get more leads, you can follow the steps:
Focus on the long tail keywords which are performing well and also remove all those keywords which are not performing for your campaign. To know about keyword performance, use keyword research tools.
The campaign and ad group should be well structured. Ad groups should be more focused.
Add negative keywords which will help in knowing which keywords should not be ranked for your ads.
Make your landing page optimised as per the keyword. Keep on updating your landing page which will also improve your quality score and conversion rate.
Make use of the ad extensions like structured snippets, phone numbers, and locations as well.
Keep on tracking your ads, how it is running and giving results. Ads, not getting results, should be turned off so it will not affect your ad account.
How To Get A Low CPC in AdWords?
Here are some tips on how to get low CPC in Adwords:
Consider reducing your bidding amount. While this may lead to a slight reduction in your ad position, it would enable you to acquire more clicks with the same budget and display a greater number of ads during that period.
Discover long-tail keyword variations that possess low competition and a moderate to high search volume.
Change your keyword match type which means broad match or exact match. Check which keyword match type is costing you less and use the keyword match type accordingly.
Include the keywords in your ad copy as well.
A/B test the landing pages.
How Can We Improve CTR?
The ratio of people who click on your ad after seeing it, is referred to as Click Through Rate (CTR), which is a measure of how useful and pertinent your ad is to viewers. CTR is also a major factor in determining Ad Rank.
Here are a few tips to improve the CTR of your ads:
Try adding a huge offer in the headline of your ad so it will attract the audience. For e.g. Buy 1 Get 1 free or Free Shipping on orders above $100/-
Include the keyword in your headline, description and display URL.
Add a clear call to action so the audience can easily get in touch with you.
Use different symbols to attract the audience.
Use ad extensions to stand out.
Get Your First Paid Ad Campaign Up And Running!
Whether you are new to PPC or have been doing it for years, setting up a successful campaign can be a time-consuming task. With the right steps and tools, however, your efforts will be worth it. After all, search engines like Google are eager for fresh content on their websites and will reward your promotion with increased traffic and conversions.
Here are the steps involved in setting up a PPC campaign
Start with a budget and decide what keywords you wish to target.
Write ads that are creative, compelling, and targeted to the audience that you want to reach.
You should optimise your ads for search engine placement by creating keyword-rich headlines, adding call-to-action content such as discounts, reviews or offers.
And now, find out if your website has the right pages for different ad copy and adjust accordingly. Google's website builder makes it easy to create landing pages tailored to multiple different ads.
You can even incorporate a CTA into the page content so they're one step closer to making a purchase or signing up for your email list.
If you want to learn more about PPC, contact the PPC experts at Zeal Digital today!
Always Publish A Compelling Ad Copy
In order to make a successful campaign, your ad copy must be geared towards the target audience. The effectiveness of the ads can be measured by how many people click on the link and convert to a sale. If your ads contain too much information, they may only serve as an information source for readers rather than an effective conversion strategy.
So, make sure you're applying the best targeting, keywords and bids to effectively drive leads and sales that convert. Otherwise, traffic and conversions will be low. You can also reach out to a freelance writer for help if you need to brainstorm ideas.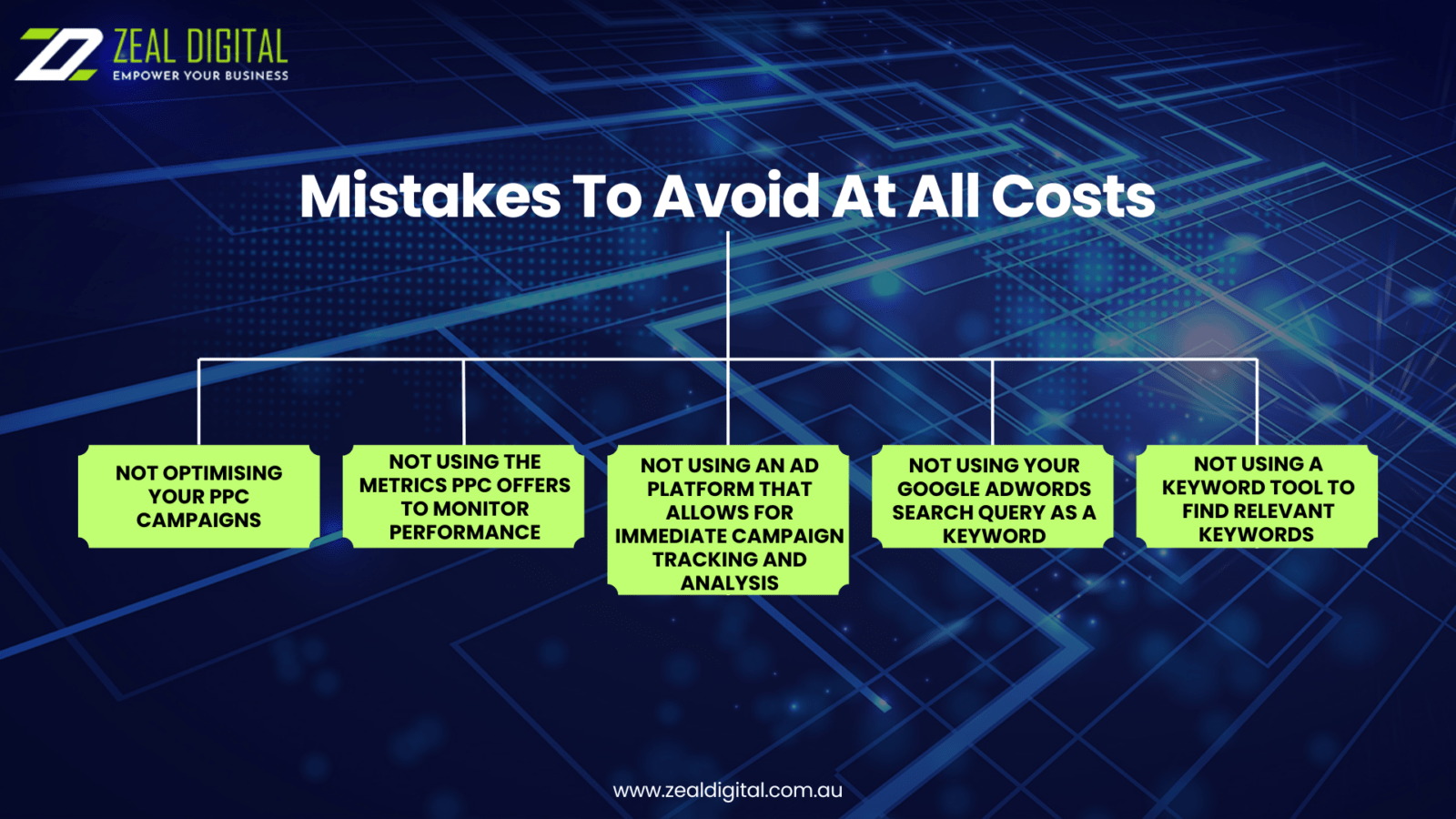 Mistakes To Avoid at All Costs
PPC advertising can be difficult and time-consuming to manage. However, there are a few simple mistakes that most advertisers make and which you must avoid at all costs.
Here, we explore these common mistakes and explain how to avoid them:
Not optimising your PPC campaigns.
Not using the metrics PPC offers to monitor performance.
Not using an ad platform that allows for immediate campaign tracking and analysis.
Not using your Google AdWords search query as a keyword.
Not using a keyword tool to find relevant keywords for your business
So please, make sure to avoid these mistakes! Otherwise, you'll end up paying more for your advertising and not getting the results you need.
If you're planning on running a PPC campaign, make sure to optimise your campaigns with these tips! You can also call the reputed professionals if you need further ppc services in Sydney!
FAQ